Wreaking havoc with hair styling, frizz is one of the biggest bugbears we hear as Trichologists. Here's how to keep it at bay…

Flyaways sticking out in all directions? Strands untameable and impossible to detangle? Sound familiar? We've all been there. While frizz is most common in curly and fine hair — because these textures have the tendency to be drier — every single hair texture can suffer. The good news is, there's plenty you can do at home in your everyday routine, to combat it. Here we share our top anti-frizz tips for all hair textures, as well as our most brilliant taming products.
What Causes Frizz?
1. Moisture in the air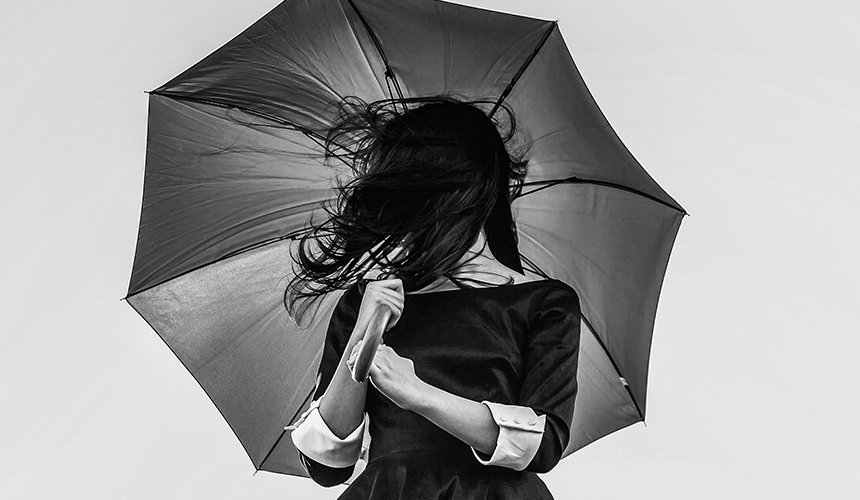 Humidity is the number one culprit for frizz. When hair gets wet, the hydrogen bonds that help hold it in shape are temporarily broken. Don't worry, this doesn't damage your strands — they're immediately reset when your hair dries! Unfortunately, your hair's hydrogen bonds aren't just broken and reset when you want them to be, they are quite fragile, and can also be broken by moisture in the air. Dry hair tries to absorb this moisture, causing each hair's cuticle, or outer layer, to swell up instead of lying flat. This is why you might find your hair gets frizzier during the hotter, wetter months, and less so during dryer weather. How frizz-prone your hair is depends on its natural structure (either straight, wavy or curly) and how porous it is (how easily moisture enters and exits your hair shaft).
2. Dry, damaged hair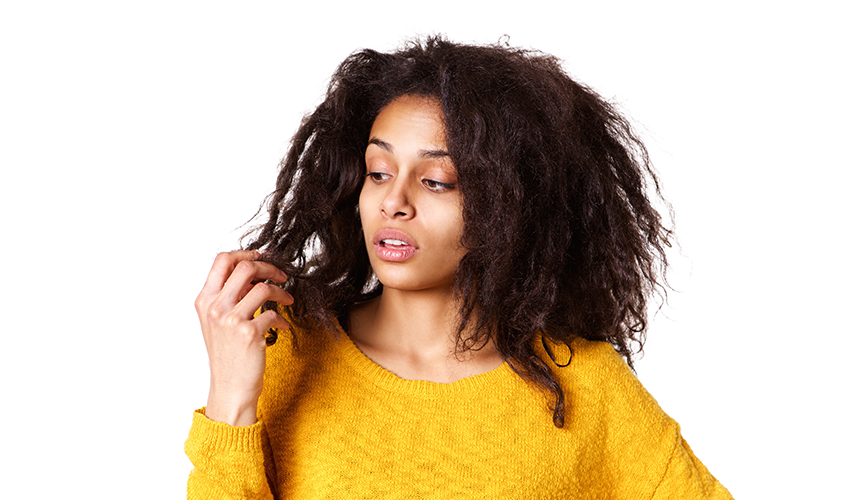 If your hair is damaged (from factors such as chemical processing and heat styling) it will be more porous, allowing more ambient moisture in through the cuticle. Also, damaged hair is almost always dry too, and dry hair is more brittle and likely to break. When hairs snap off in various places around your head, they can stick out and make your style look frizzy, so maximum condition is key.
3. Friction
If you have curls, waves or frizz-prone strands, you'll know that brushing your hair when it is dry is a sure-fire shortcut to a frizzy do. The same goes for sleeping on a rough pillowcase or not being gentle when towel-drying. This is because friction lifts and ruffles the hair cuticle, leading to frizz. The fix? Make sure your hair cuticles are as flat and smooth as possible (and follow our hacks below…)
Frizzy Hair Hacks
If frizz is threatening to spoil your style, don't fret, as these handy tips will help defend your 'do against frizz, whatever your hair texture.
Use a Pre-Shampoo Treatment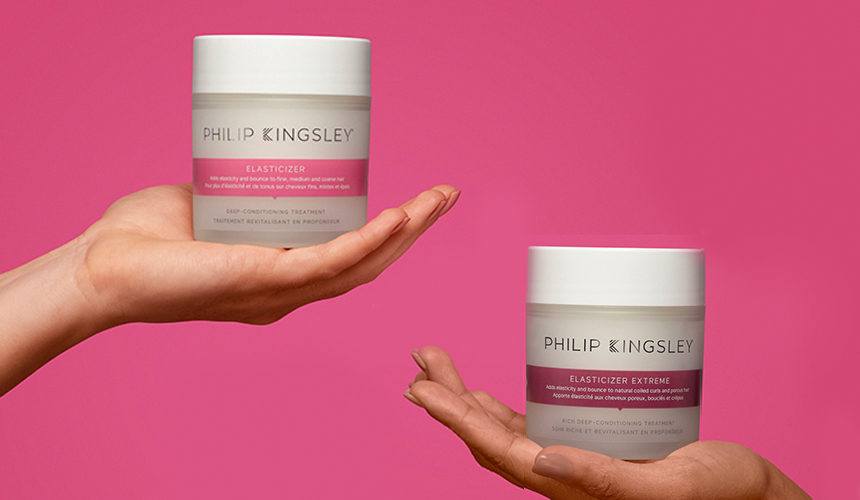 Keep hair looking cool when temperatures rise by introducing a pre-shampoo mask like our cult product Elasticizer into your regime. This will plump your hair with moisture and then lock it in, helping to make your hair supple, shiny and shielded from humidity. The moisturising blend of Olive and Castor oils rehydrate, while Hydrolyzed Elastin adds strength and stretch to protect hair from breakage. If you have natural coiled curls and need an extra-conditioning boost, opt for Elasticizer Extreme. Leave the treatment on overnight for an extra intense moisture surge.
Use the right shampoo and conditioner for your hair texture
Your frizz-fighting regime starts in the shower! Make sure you're using the correct shampoo and conditioner for your hair texture. Need help choosing? Read our guide.
Switch to a silk pillowcase
With friction being one of the biggest causes of frizz, swap out your regular cotton pillowcase for a softer, silk one. The soft, slippery fabric will allow hair to glide across the pillowcase rather than snag and tangle, and it also helps maintain hair's natural oils. It takes beauty sleep to a whole new level!
Condition, condition, condition!
Hydration is the key to a sleek, glossy do, so regularly conditioning is a non-negotiable step in your frizz-fighting regime. Conditioner will replenish and lock in lost moisture to maximise hydration, leaving locks less able to soak up the humidity in the air.
Use a shielding spray
A daily protective spray will help shield your hair from weathering and damage and help hold your style for longer. Try our Daily Damage Defence which is formulated with frizz control and makes detangling a doddle.
Detangle with a wide tooth comb
Limit friction and breakage caused by bristles when brushing, by switching your hairbrush to a gentler wide tooth comb. Combing your conditioner through in the shower is also a great hack for avoiding frizz, particularly curly hair types, as this will ensure your curls maintain their pattern. Top tip: Always work your way up from the ends to the roots when combing.
Get a good hair cut
Frazzled, frayed ends can travel up the hair causing more damage and frizz. Give them the chop by getting your hair trimmed as soon as you notice them and do so regularly if possible. In the meantime, use ourBond Builder Split End Remedy which seals 98.6% of split ends instantly after just one application and lasts for multiple washes.
Use a mircrofibre towel
Your hair is most vulnerable to breakage when wet, so being too rough when towel drying is a recipe for frizz. Instead, wrap it in a soft microfibre towel which minimises friction and breakage and is much kinder to strands.
Always use a heat protector
We all know heat styling is damaging to tresses, but it's also one of the best ways to tame hair and make it look and feel great. We're not saying you have to part ways completely with your heated irons or curling tongs, just ensure you limit the damage caused by always using a heat protector like Perfecting Primer Heat Protection Spray.
Hairspray hacks
Hairspray makes a great hack for taming unwanted frizz. Simply mist the bristles of a clean toothbrush with a spray like our Finishing Touch Flexible Hold Mist and use it to comb down any flyaways around the hairline or parting, for a sleeker finish.
Switch to a diffuser
It can seem like a cycle – heat styling tames frizz but heat damages hair which causes more frizz – so if you have curly hair, dial down the damage by switching your hairdryer to a diffuser. This will limit the amount of direct heat and forceful air on your hair and soften the air flow, leaving your curls smooth and bouncy rather than frizzy.
Your ultimate frizz fighting regime
Fine Hair
For shorter, fine hair: spritz Tricho Pro Volumising Protein Spray over your mid-lengths and ends. For fine hair past shoulder length: use Perfecting Primer instead. Spritz lightly through your mid-lengths and ends.
Scrunch Volumising Froth Root Lift Mousse into your roots, for weatherproof root lift.
Smooth a small amount of Finishing Touch Polishing Serum over your mid-lengths and ends (start with a pea-sized amount, add more if required).
Air dry or heat style as desired.
Naturally Coiled Curls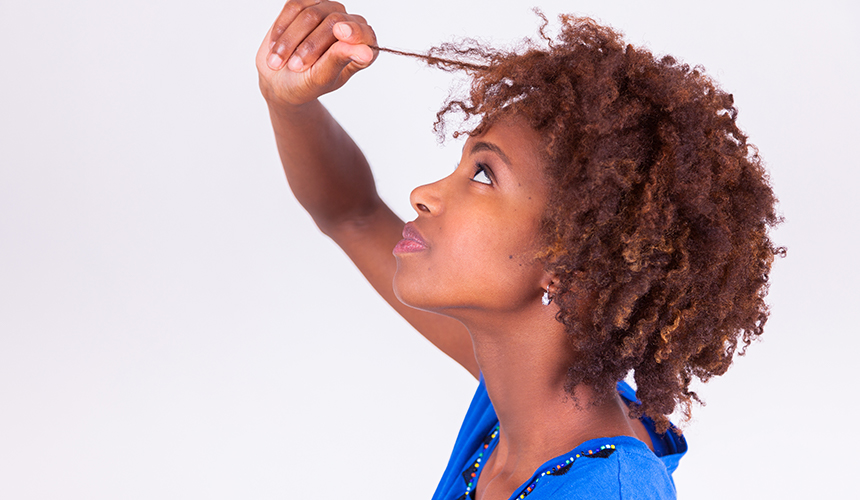 Spritz Daily Damage Defence Extreme through your mid-lengths and ends.
To style with your natural curl: Finishing Touch Polishing Serum with equal parts Curl Activator and Preen Cream. Scrunch into your hair.
To style straight: work 1-2 squeezes of Bond Builder Split End Remedy into your mid-lengths and ends for extra heat protection. Mix Finishing Touch Polishing Serum with equal parts Preen Cream. Heat style as desired.
Medium Hair
Work 1-2 squeezes of Bond Builder Split End Remedy into your mid-lengths and ends.
Spritz Daily Damage Defence generously through your strands.
Smooth 1-2 squeezes of Finishing Touch Polishing Serum over your mid-lengths and ends.
Air dry or heat style as desired.
Coarse Hair
Work 2 squeezes of Bond Builder Split End Remedy into your mid-lengths and ends (3 squeezes if you have particularly long, coarse hair).
Spritz Daily Damage Defence generously through your strands.
Smooth 2 squeezes of Finishing Touch Polishing Serum over your mid-lengths and ends.
Air dry or heat style as desired.