Intensely Condition
Deluxe Mini Trio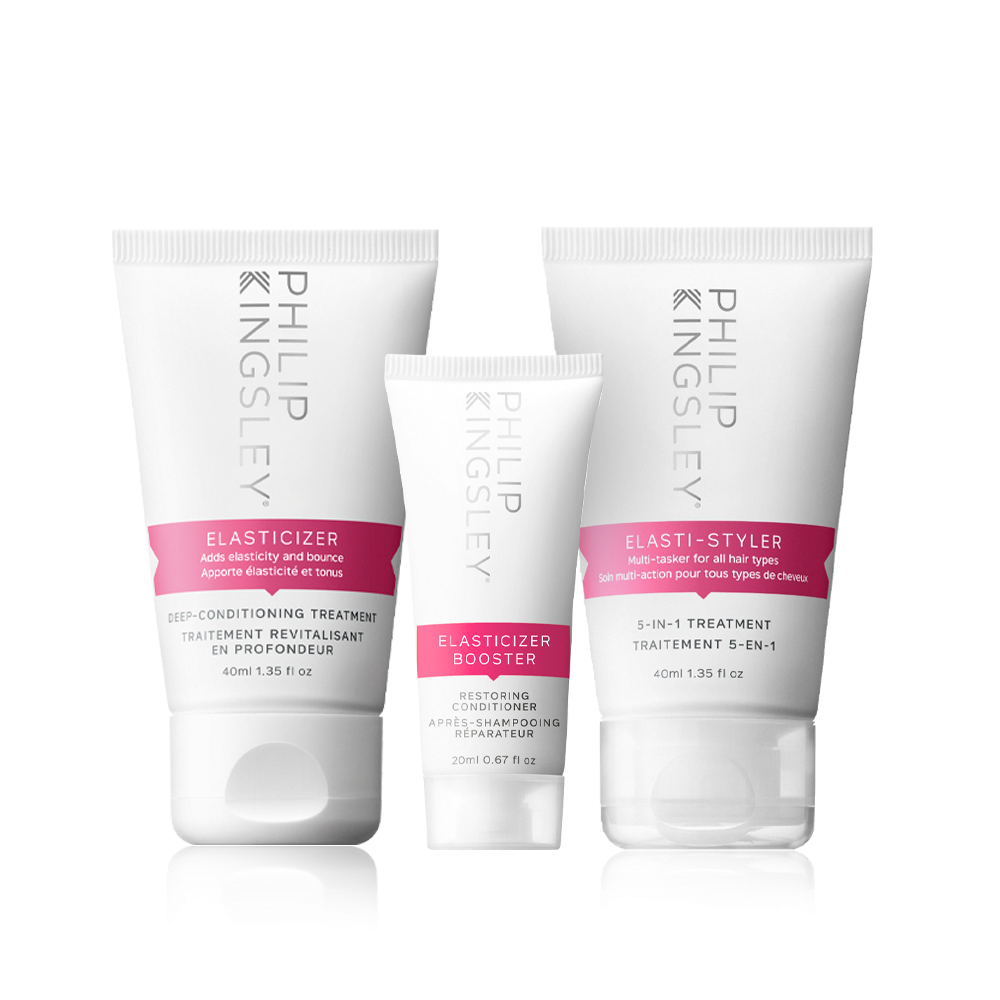 Intensely hyrdrating trio for dry hair
All of the hair repair & moisturising benefits of Elasticizer, now in a super-charged trio with Elasticizer Booster designed to boost, enhance and prolong weekly Elasticizer treatments. Our pre-styling treatment Elasti-Styler 5-in-1 Treatment is the finishing touch to your routine to prime, condition, strengthen tame and add shine. Our deluxe mini's are the perfect way to try some of our hair care heroes, if you are new to Philip Kingsley. Our intro kits are also great for if you're always on-the-go or simply headed off on holiday.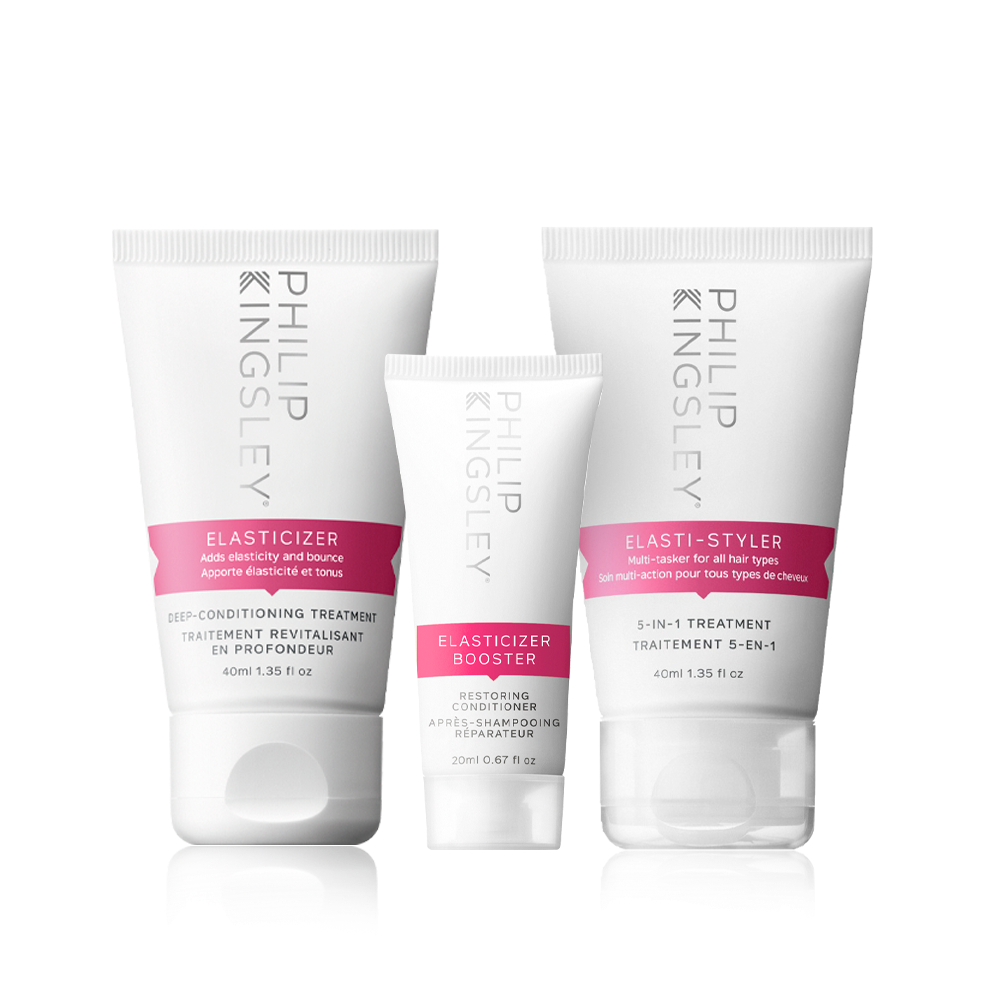 Your intensely conditioning hair heroes.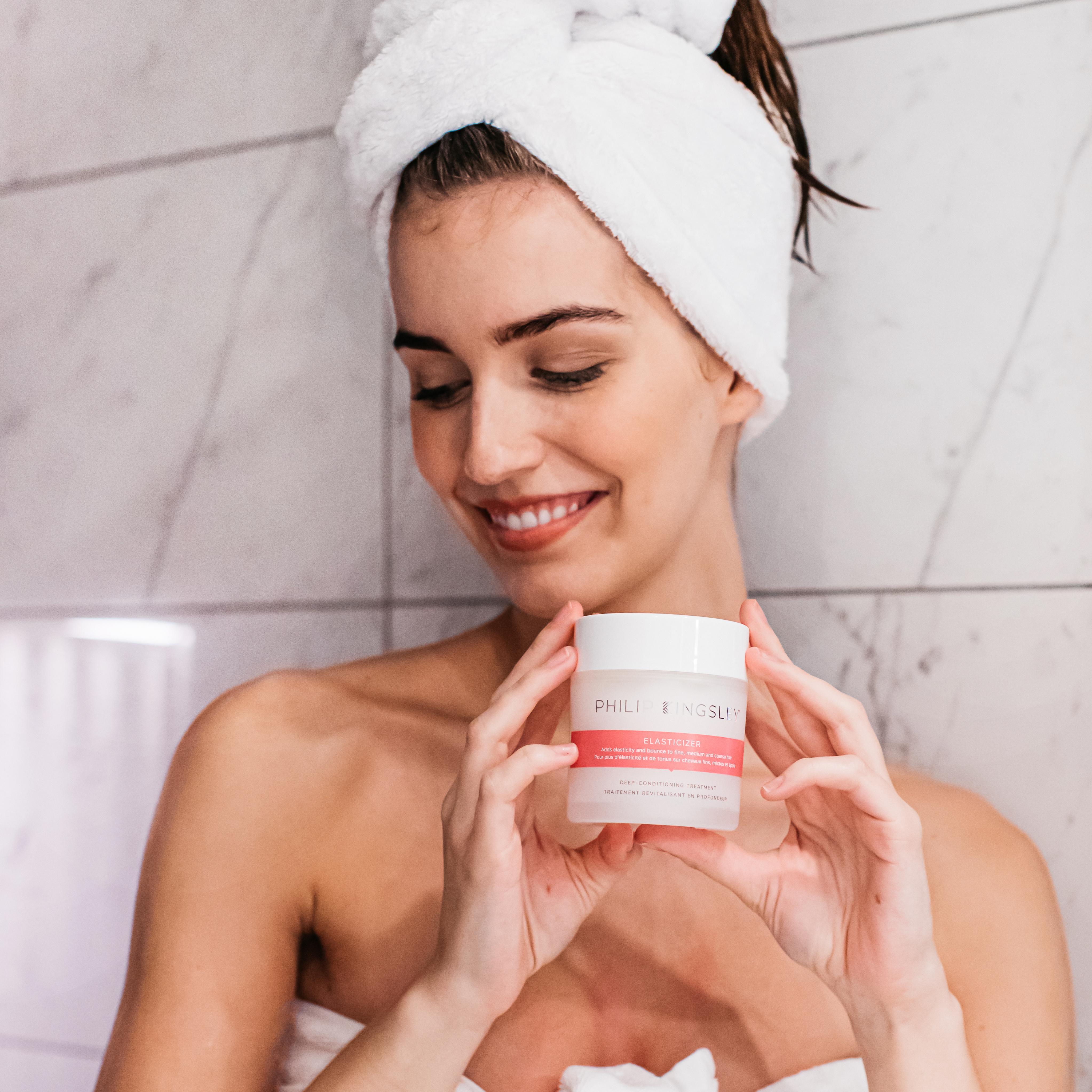 The Proven Answer to Dry Hair
Elasticizer is a super-conditioning treatment that transform dry hair into soft, bouncy tresses.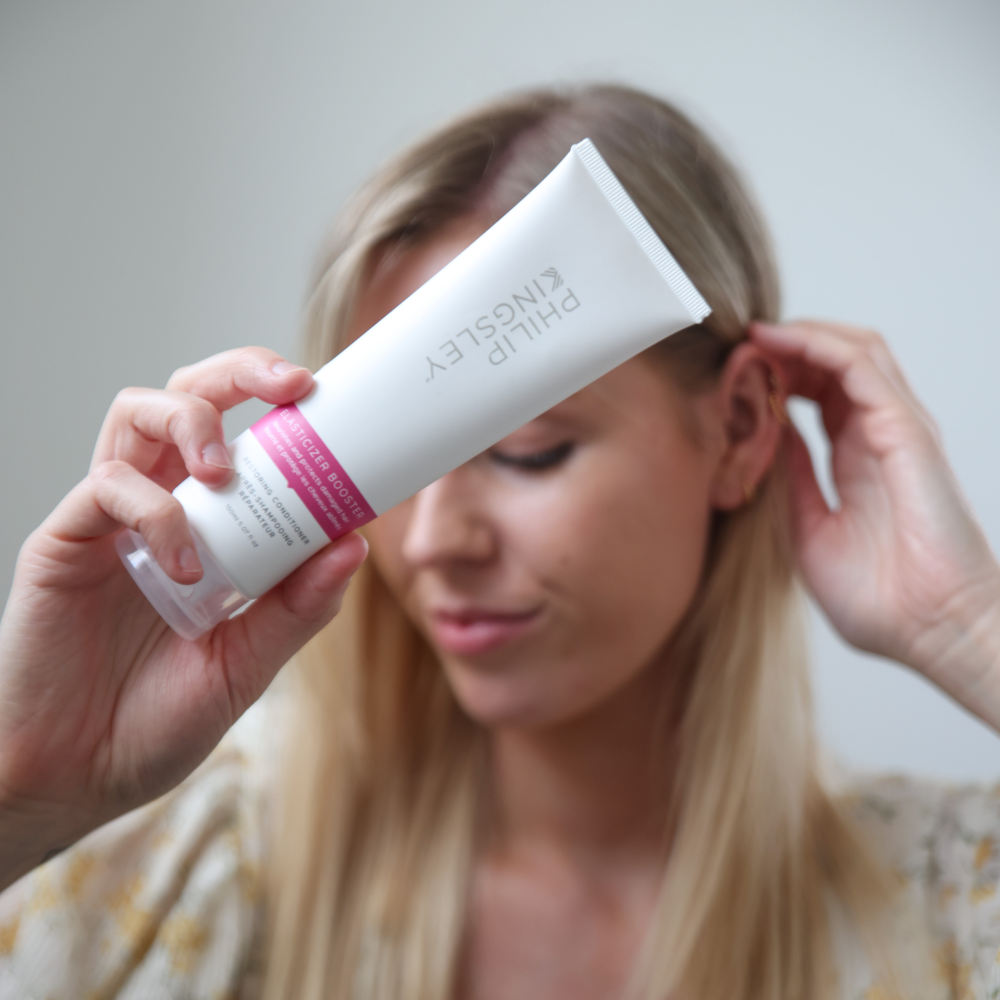 Boost & Enhance Hair's Hydration
Elasticizer Booster is an intensely hydrating, versatile conditioner booster that swiftly nourishes strands and restores parched hair in the shower as part of your hair wash routine.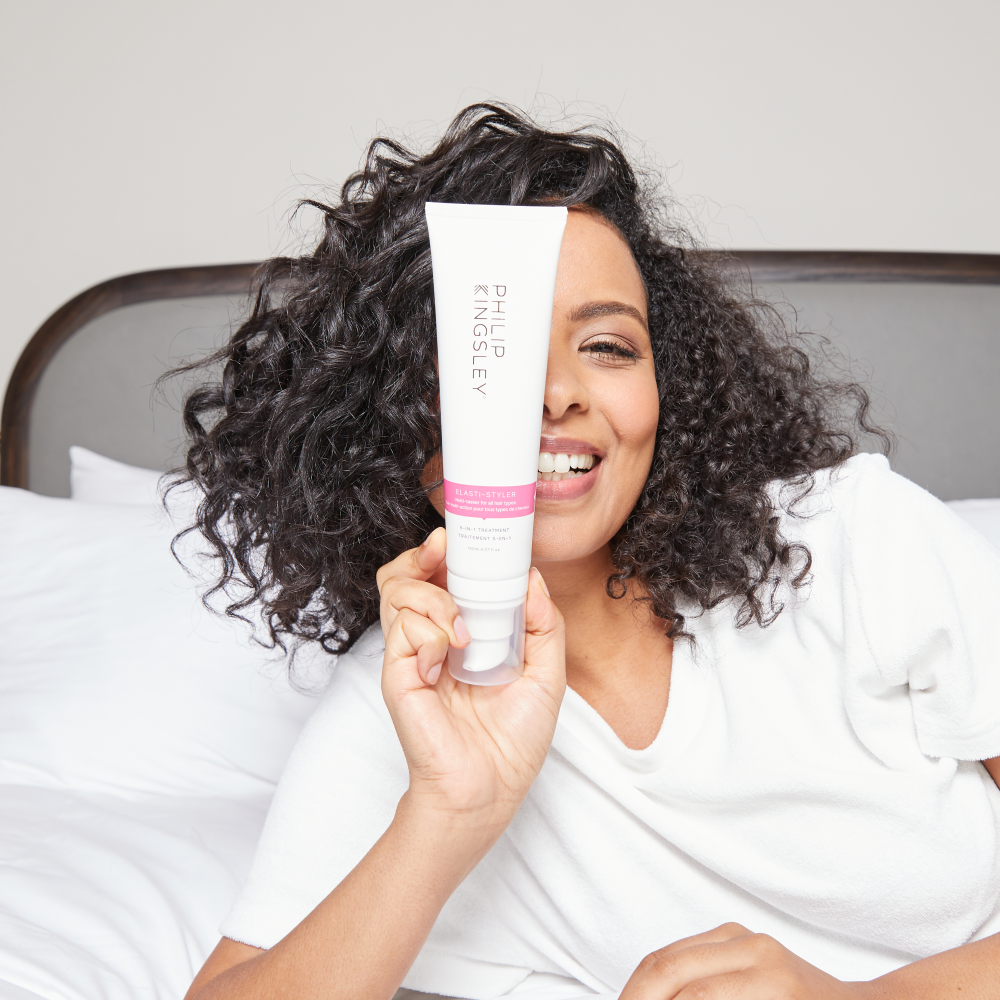 Strengthens, Conditions, Primes, Tames & Adds Shine
Elasti-Styler is the pre-styling treatment you need in your routine to prime, condition, strengthen tame and add shine.
*INDEPENDENT USER TRIAL RESULTS, AFTER 4 WEEKS USE **INDEPENDENT USER TRIAL RESULTS, AFTER ONE USE.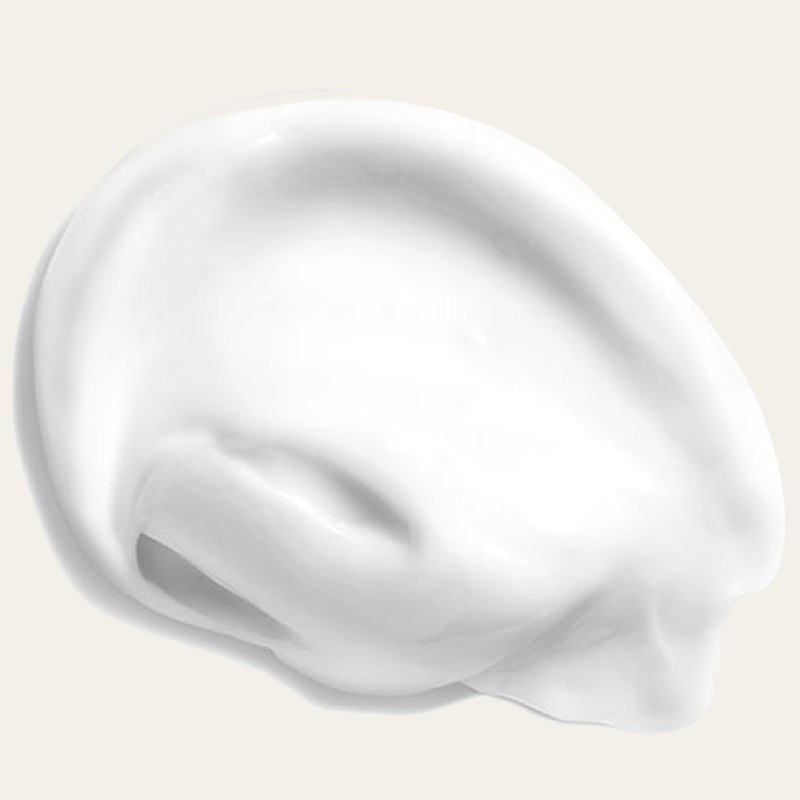 Hydrolyzed Elastin, Castor Oil, Olive Oil & Glycerin
Hydrolyzed Elastin penetrates the hair shaft and increases elasticity while Olive Oil moisturises and makes hair look shiny. Chia Seed Extract protects from hair weakening after exposure to chemical processes.
Use Elasticizer weekly for best results and Elasticizer Booster in-between treatments. Work Elasti-Styler 5-in-1 Treatment through the mid-lengths and ends of towel dried hair.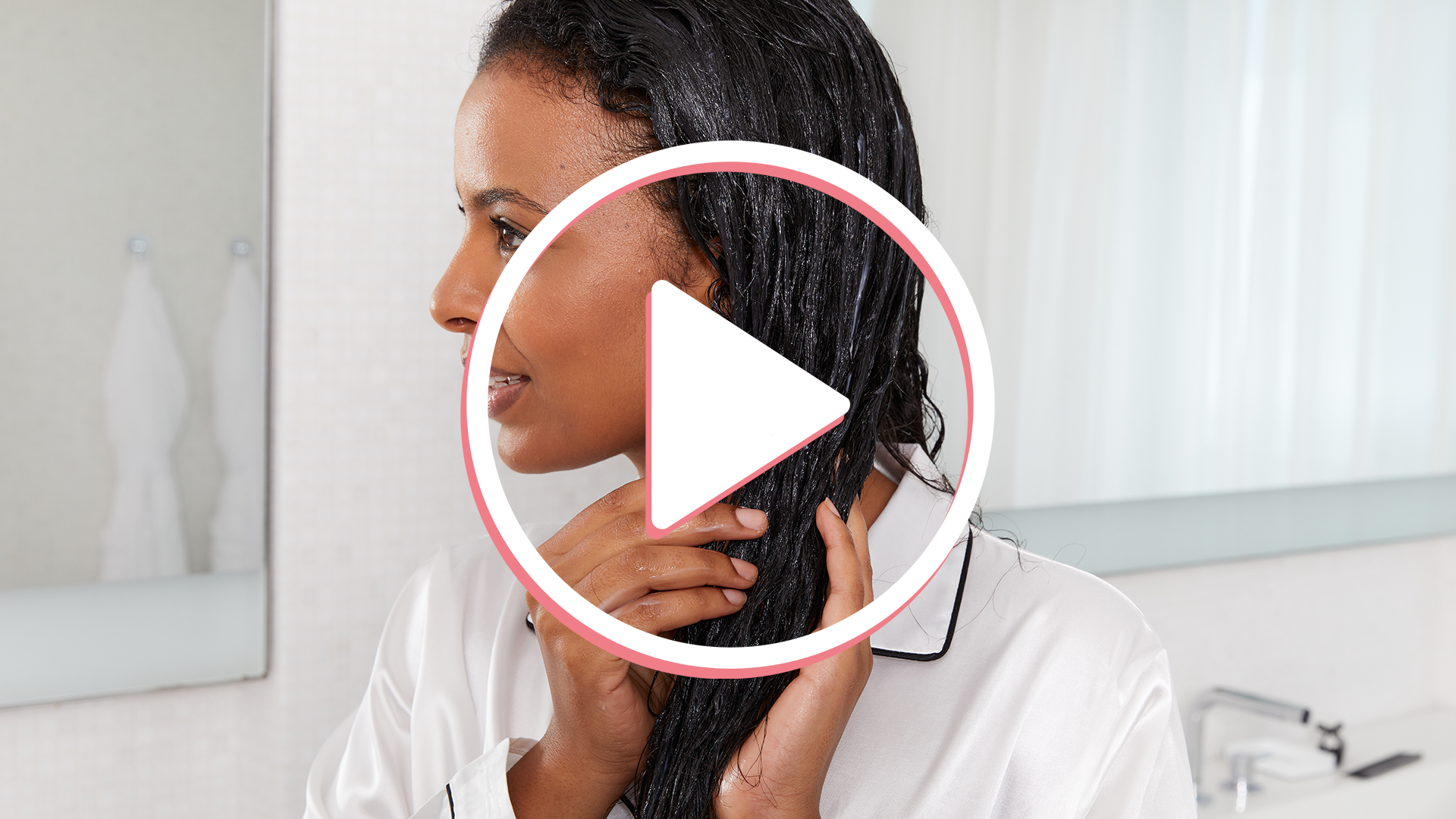 For everyday use, a great finishing product that's not heavy or sticky. Helps tame my coarse and thick hair leaving it soft and shiny. Highly recommend
Frequently Asked Questions
We answer some common queries about Intensely Condition Deluxe Mini Trio.
If you have more questions you can submit a question below or visit our Help Centre to speak with our Customer Care Team.
You can! This miracle hair mask can be left in for 10-20 minutes or kept on overnight for maximum results. If you are someone who prefers to shampoo in the morning, then you might find it is more convenient to apply Elasticizer before bed. Simply apply the deep conditioning treatment and wrap your hair in a microfibre turban overnight to keep it nice and secure. Then rinse well, shampoo and condition as normal the next day. Frequent use will lead to healthier looking hair with less breakage, allowing you to achieve salon-level results from one at home hair treatment.
A well-formulated conditioner should work right away, so there is no need to leave it in in for longer than a few seconds. But you can leave Elasticizer Booster on for 5-10 minutes as a flash mask to give your hair an extra hydration boost.
Start with a large pea-sized amount and spread through the ends of towel-dried hair. A small amount can be applied to dry, styled hair to finish and tame frizz and flyaways.
Reviews & Questions
What our customers say...