At Philip Kingsley, our Shampoos and Conditioners are formulated and organised according to hair texture: Fine, Medium, Coarse, and Natural Coiled Curls.
The system of hair textures was pioneered by our founder Philip Kingsley. He realised that the standard hair categories of dry, oily and normal are misleading. For example, your hair can be dry at the ends and oily at the roots. It can be frizzy and dry, or limp and dry. It can be coarse and oily, or naturally coiled and oily. All of these conditions need different products and regimes to treat them, depending on the texture of your hair.
So, what is hair texture exactly?
Hair texture refers to the permanent diameter of your hair shaft, for example fine or medium. Hair condition, on the other hand, is a description of the temporary state of your hair, for example, dry, colour-treated or oily. Selecting the correct products for your hair texture can really improve your hair's health and appearance. However, selecting products according to your hair's condition can do quite the opposite.
For example, a conditioner that says it's for dry hair will likely suit some hair textures but not others. It will probably be very moisturising and emollient, making it perfect for coarse, dry hair but far too heavy for fine, dry hair.
Fine textured hair generally requires volumising products and a lightweight conditioner. Coarse hair, on the other hand, needs heavier, more moisturising products to hydrate, smooth and control it. Choosing your Philip Kingsley Shampoo and Conditioner to suit your hair texture will mean they contain the exact level of moisture your hair requires.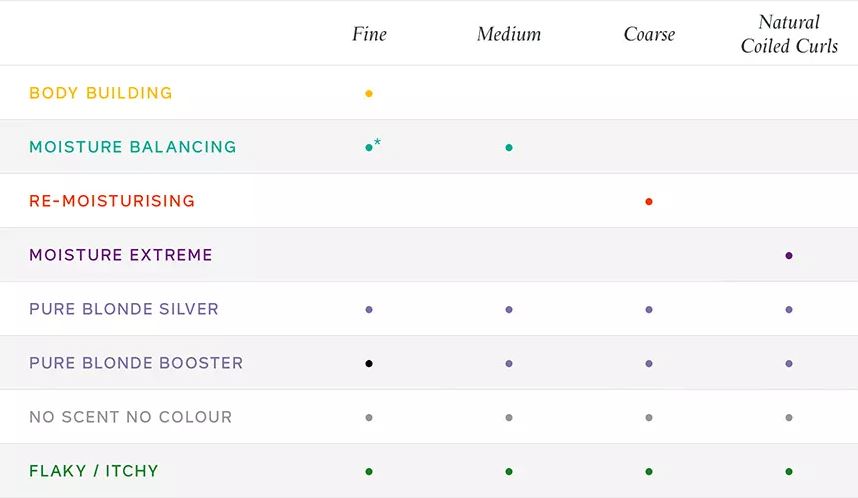 *Moisture Balancing Conditioner is recommended for fine hair (not shampoo)
What about mixing and matching?
This shouldn't be necessary with Philip Kingsley products. All our range formulations address the specific needs that each hair texture requires in a shampoo or conditioner. There is one exception: people with fine hair that is longer than shoulder length and/or has regular chemical processing should use Moisture Balancing Conditioner with Body Building Shampoo. This is because fine hair that is longer and/or more processed will tangle more and tends to be dryer. Therefore, it needs more moisture, which our Moisture Balancing Conditioner provides.
Can my hair texture change?
Some women find that their hair texture changes around menopause; it may become more fragile and prone to breakage. This is because the shift in hormone levels around menopause can reduce the diameter of your hair shaft, resulting in finer hairs than before.
Your hair may also not grow as long during and after menopause, due to the effect that hormones have on the hair growth cycle. Sebum (oil) production is driven by hormones, and so starts to decrease around menopause with the associated drop in oestrogen. This is why your hair may start to feel more wiry and dry.
Ready to work with your hair's natural texture? Shop Shampoos and Conditioners now.
Interested in speaking with a Trichologist to assess your hair's texture and what it needs to look its healthiest? Find out about a Consultation.
Find the right hair products for your hair type
At Philip Kingsley, our Trichologists create products for hair textures, scalp concerns and styling challenges. Now you can take the Online Hair Quiz to discover the right products for you and your hair.